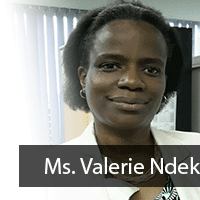 Ms. Valarie Ndekana
Valerie is a certified facilitator with specialities in training, coaching and mentoring. She began her career as a software developer for a company in Tanzania named Meeco Unisys, where she was part of the team that developed and automated the insurance processes for National Insurance Cooperation (NIC).
She has a wealth of experience in the commercial banking industry where she began her career as a Global technology Service Delivery Manager in Kenya. Throughout her 17 year professional career Valerie has held various positions; she has been a Service Excellence & Change Implementation Manager, Frontline Experience & Operational Excellence Manager and Business Assurance, Relationship Manager Local Corporates & Commodities, Traders and AgriBusiness. In 2011, she found her true calling and assumed the role of Segment Trainer & Facilitator for the Africa region. During her period as the Segment Trainer & Facilitator she has trained over 500 individuals with a specific focus on SME banking.
Valerie holds a BSc in Computer science from Osmania University, India, a qualification she received with a 1st class honors. Her other professional qualifications include: Core Credit Curriculum, CSAP: Certified in Credit Skills Assessment Programme, CISA: Certified Information Systems Auditor, IL: Certified Process Improver using Six Sigma Methodology and Project Management and use of Statistical tools.
She possesses excellent leadership skills, enthusiasm and dependability with a strong desire to learn and excel. Her admirable analytical skills were gained through experience in process analysis and change management programmes. She has excellent interpersonal, organisation and team building skills with an ability to interrelate freely at all levels of the Organisation. Her excellent communication and presentation skills have proved to be a valuable asset in the organisations in which she has worked. She is enthusiastic about change and has a positive attitude in all she does.
Key Competencies:
Sales and Services in Banking industry with focus on SME
Credit Skills
Trade Finance skills
Bank Branch Management
Leadership Essentials for Managers
Managing Teams Effectively
Performance Management
High Performance Relationship Management