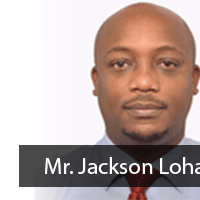 Mr. Jackson Lohay
Jackson Lohay is a Building Economist and a holder of an MBA from the Eastern and Central African Management Institute (ESAMI).  He is a certified trainer for Housing Finance and has conducted various sessions on the subjects of housing finance and Credit Risk Management to Credit Officers and bank CEOs in Tanzania under the Bank of Tanzania Training Institute (BOT-TI).
He has worked in the banking industry for sixteen years, having covered areas of credit analysis and administration, product development and life cycle management and retail banking management.  He currently works at Azania Bank Ltd as the Senior Manager Retail Banking. Prior to banking, he worked for three years in the construction industry and in the Architects & Quantity Surveyors Registration Board (AQRB).
He is a member of the Valuers and Valuation Registration Board of Tanzania, representing the Tanzania Bankers Association (TBA) where he is a member of the Mortgage Technical Team.