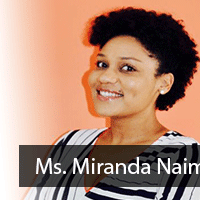 Ms. Mirinda Naiman
Miranda is a thriving 'Accidental Entrepreneur' who founded Empower in 2009 with a view to positively impacting Tanzania by investing in its people.
She is a tenacious Organisational Development Practitioner, Motivational Speaker and Writer with consultancy & HR experience gained in Tanzania and the UK. With an academic background in Theatre for Development and Drama Education she has strategically transferred her skillset to the private sector and built up a flourishing Human Capital Consultancy Firm (www.empower.co.tz) servicing East Africa and beyond.
She was part of the first batch of students to complete the Central School of Speech and Drama's BA (Hons) degree in Drama, Applied Theatre and Education, before going on to do an MA in Theatre and Development Studies at the University of Leeds. As such, Miranda is a qualified teacher and accomplished 'Train the Trainer' registered in the UK. She is interminably passionate about growth, education and the development of Tanzania.
Miranda is one of the youngest members of the Entrepreneurs' Organization Tanzania Chapter where she serves on the Board as Learning Director. She is a Board Director for READ International and a Member of the Management Committee for the UK Alumni in Tanzania Network.
Miranda enthusiastically unleashes the true potential of managers and frontline staff in Financial Institutions; UN Agencies & INGOs; Telcos; Oil & Gas Companies and Multinationals across the region.
Motivating Tanzanian Youth to improve their employability and entrepreneurial skills is her lifeblood and she spearheaded the 'Kidpreneur Movement' to prepare Tanzania's future generation for business.
Miranda frequenty speaks on Authentic Leadership; Image & Personal Branding; First-Generation. Entrepreneurship; Employee Engagement and non-Monetary Motivation.
Her Life Mantra: "Always strive to be a better version of yourself."