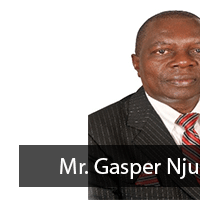 Mr. Gasper Njuu
Gasper is a career banker (retired), currently an independent consultant in matters of banking, finance and investment. He possesses over 30 years Commercial and Investment Banking experience. He has proven leadership skills and ability in building and leading successful working teams.
He possesses a wealth of experience in structuring unique Corporate Finance transactions for both Private and Public sectors (Government).  He has been involved in the process of establishing Banks, setting up of Corporate Banking Units, developing Credit Policies and Procedures. He has been instrumental in developing business strategies for banks, recruiting & training bank officers, pricing & marketing bank products and managing client relationships. He is strong in handling negotiations and is well versed in matters of good governance especially in matters of financial discipline and general management.
Mr Njuu worked for the National Bank of Commence for 13 years, Standard Chartered Bank Tanzania Ltd for 4years and then Citibank Tanzania Ltd for 16 years until his retirement in June 2013 in the position of Vice President. He served on various boards of directors including Citibank Tanzania Ltd for 10 years (retired in Dec 2015) as an Executive and Non-Executive Board member.
He holds an Advanced Diploma in Banking, Post Graduate Diploma in Financial Management both from Institute of Finance Management (IFM), Dar es Salaam and an MBA in International Business from Indian Institute of Foreign Trade, India in collaboration with IFM, Dar es Salaam, Tanzania.  In addition, he has attended various short-term courses relating to banking, investment, management, leadership, risk management, corporate valuation, directorship, entrepreneurship and capital markets & securities industry.
Gasper has been a resource person in forums held in Tanzania and abroad discussing; project & business finance, investment and capital markets.