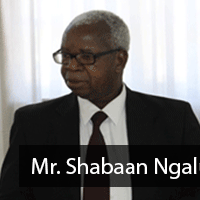 Mr. Shaaban Ngalupia
Mr. Shaaban Ngalupia is an Independent Consultant and Trainer in Banking and Customer Service based in Dar es Salaam. Shaaban worked in the Banking Industry for 33 years; 12 years with Consolidated Holding Corporation (CHC) and 21 years with defunct National Bank of Commence (NBC) in different capacities in both Organizations from Bank Clerk to Ag. Director General before he retired in 2009.
Shaaban spent 10 years at the defunct NBC Training Centre, Iringa as an Instructor in banking subjects specialising in lending operations. With the defunct CHC, Shaaban developed and implemented a Loan Recovery Policy for the recovery of bad loans and he was also the In charge of Litigations and claims in respect to loan recovery cases.
Shaaban has contributed actively to the development and training of professionals in the banking services sector by sharing his experience regularly through defunct NBC Bankers Training Centre, the Institute of Finance Management and the Tanzania Institute of Bankers.
Shaaban holds an Advanced Diploma in Banking and Post Graduate Diploma in Financial Management from the Institute of Finance Management, a Specialization Diploma in World Banking and Finance from The Economics Institute, Boulder in the USA, and an MBA from the University of Dar Es Salaam. Shaaban has travelled locally and internationally, he has international exposure through training and workshops to the following countries; Kenya, Uganda, South Africa, United States of America and Britain.
After his retirement from the Public Service in September, 2009, he decided to become an Independent Consultant and Trainer in Banking Operations and Customer Service to continue sharing the knowledge and experience acquired with the up-coming bankers. Besides being one of the Resource Persons of the Tanzania Bankers Institute, Shaaban is also a Part time Lecturer at the Institute of Finance Management in Dar es Salaam.