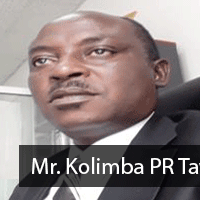 Mr. Kolimba Pancras Reuben Tawa
Mr Kolimba Pancras Reuben Tawa is working with TPB Bank PLC (TPB) at the capacity of Chief Manager Operations (CMO). He joined TPB, as a Bank Clerk, November 1993. He climbed the leadership ladder, to the current post, after working in various departments, at Branches and Head Office.
Mr Tawa holds a Diploma in Cooperative Accounting, Moshi Cooperative College (1992), Certificate of Chartered Institute of Banker, London-UK (Cert.CIB-1996), Postgraduate Diploma in Financial Management, IFM (PGDFM-2000), Banking Associateship Diploma-Certified Public Banker (ATIOB/CPB-2002) and Masters of Business Administration, UDSM (MBA-2009).
He attended several courses, conferences and workshops within and outside the country, including:- Banking Operations, Foreign Exchange and Financial Management, Anti-Money Laundering and Counter-Terrorist Financing, Strategic Management, Leading change in volatile environment, Management & Leadership Strategies "Bullet Proof Manager", Western Union Money Transfer Services, which was organized by TPB, Tanzania Institute of Bankers (TIOB), Bank of Tanzania (BOT), East African Banking School (EABS), Association of Savings Banks for East Africa (ASBEA), World Savings Bank Institute (WSBI) and Western Union Financial Services International in Nairobi/Mombasa, (Kenya), Kampala (Uganda), Johannesburg/Cape Town (South Africa), Dakar (Senegal), Accra (Ghana), London (UK), Istanbul (Turkey), Dubai (United Arab Emirates) and Barcelona (Spain).
Mr Tawa has vast experience as he has facilitated training courses within TPB, other Banks and Institutions, EABS, ASBEA and WSBI. Amongst other training courses, he participated during formal International Training of Trainers Courses organized by 1) Savings Bank Foundation for International Cooperation (SBFIC), Germany, in collaboration with TPB and 2) India Institute of Banking and Finance in collaboration with TIOB. The Courses he has facilitated includes: Induction for New Recruits, Junior and Senior Bankers, Supervisory and Managerial Skills, Branch Management, Front and Back Office Management, Customer Care and Service Quality Standards, Banking Operations, Money Laundering, Fraud & Forgeries and Soft Skills-Managing Organisation Cultural Change, Time and Stress Management, Effective Communication, Problem Solving, Team Building, Negotiation, Staff Motivation at work place, Employee Counseling and Disciplining, Decision Making and Delegation.