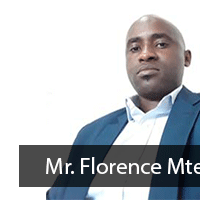 Mr. Florence Mtenga
Mr. Florence Mtenga is a young professional specialized in the banking Industry. He holds a honors degree in Economics [B.A in Economics (hons)] from the University of Dar es Salaam (UDSM) and Masters of Science in Finance and Investment (MSc. Fin & Invest.) from the Institute of Finance Management (IFM).
Florence holds various risk management certifications including; Operational risk management, Business Resilience management and Conduct risk.
Career wise, Florence has worked in MIS, Internal Control and Risk Management Roles in various banks including Stanbic Bank and the National bank of Commerce. He has practical and excellent capabilities in Enterprise Risk management [Operational Risk, Business Continuity Management, Disaster Recovery, Information Risk, and Compliance Risk], Internal Control, Corporate Governance and MI Analytics.
Given his excellent lecture capabilities, qualifications and competencies, Florence, is also a trainer. He has trained with different banks and non-bank organizations since 2015 in the areas of Risk Management and Internal Control Execution and Assurance. He also facilitates training with professional bodies like the Tanzania Institute of bankers (TIOB).